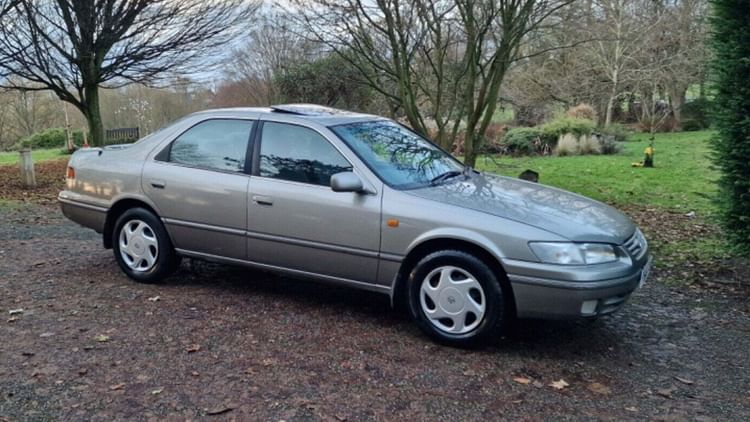 Fancy a Toyota Camry XV20 with a manual gearbox? You've come to the right place, because PetrolBlog has found one for sale on eBay.
If you asked me to prepare a SWOT analysis of my Toyota Camry, I'd list three things under 'Strengths'. In no particular order, the pace of the 3.0-litre V6 24-valve engine, the long-legged comfort and its James Milner levels of dependability. Rust might be terrorising the underside of the car and the paintwork is peeling faster than the skin of a sunbathing Brit in Benidorm, but there's a general sense that it'll run forever. Well, it'll run until it's priced off the road. Or deemed socially unacceptable. Whichever comes soonest.
The P-reg Camry I've spotted for sale lacks a V6 engine, but retains the comfort and reliability you'd expect from Toyota's four-door exec. As Meat Loaf said, two out of three ain't bad. With just 128bhp available from its 2.2-litre four-pot engine, the Camry isn't going to sprint off the line like a bat out of hell, but because its blessed with a manual gearbox, it's not significantly slower than the V6. Yes, it's a UK Camry XV20 with a stick shift. Insert something about paradise by the dashboard light, situated between the handbrake and the ashtray.
Granted, a manual 'box in a Camry isn't as appealing as it would be in, say, a BMW, but it makes softens the blow of not having a potential MR2 engine transplant under the bonnet. A Camry XV20 with a V6 will waft to 62mph in nine seconds before hitting a top speed of 130mph. The 2.2 manual will complete the zero to 62mph sprint in 10.4 seconds – 1.3 seconds faster than a 2.2 automatic. At 32.1mpg, it's also more economical than the 2.2 auto (29.4mpg) and 3.0 V6 (24.4mpg). The seller describes the Camry as, 'PENSIONER OWNED, SOLID UNMOLESTED EXAMPLE, COMPLETELY SOLID IN ALL THE RIGHT AREAS, DOES HAVE SOME MINOR AGE RELATED MARKS BUT A VERY PRESENTABLE EXAMPLE GRANTED THE AGE.' Everything, including 'SELDOM SEEN' in the subhead, is written in UPPERCASE, because eBay.
In the ideal world, it'd be the UK-market Camry Sport. Although the engine was untouched, the Sport featured lowered suspension, rear spoiler, 17-inch alloys, body styling package and Connolly leather upholstery. One day, PetrolBlog will buy one. For now, the Camry 2.2 with a manual gearbox takes pride of place at the top of the eBay watchlist. Steel wheels, cloth seats and a five-speed 'box – it's arguably the most PetrolBloggy XV20 you can buy. Fancy it? Check out the ad on eBay. https://youtu.be/1Gh6PY-yaAo Read more The Toyota Camry's dual rear wipers were 'of modest value' Oxymoron: Why the Sport failed to save the Toyota Camry This 1997 Toyota Camry V6 was worth £7,000