My third Renault Safrane arrived in October 2022. It's a 1998 phase 2 with a 2.5-litre, 20-valve, five-cylinder Volvo engine producing 168bhp. Yes, it's a five-pot Safrane.
It was free, so as you can imagine, it's not perfect. The previous owner was Mike, a Club Petrolblog member and serial Safrane owner, not to mention a good friend of mine.
When the garage presented him with a long list of problems, he decided to cut his losses, buy a Volvo V70 and invest his time and money in a rather wonderful Austin 3-Litre. You can read about that car in issue 16 of Classic.Retro.Modern. magazine. Hurry, while stocks last, etc.
I won't bore you with the details of what happened in the time between the car's arrival and its fresh MOT in April 2023. Instead, I'll direct you to my rubbish YouTube channel, which is so neglected, I'm expecting it to appear on one of those channels dedicated to abandoned buildings.
Anyway, just days after the Safrane's extended stay at an MOT test station, I hit one of the many potholes on the roads of Devon and was rewarded with a bulge on the nearside front tyre. Great.
It was a blessing in disguise. I was debating whether to keep the 17-inch Laguna II 'Louxor' wheels and the skinny tyres, so I saw this as an opportunity to refurb my set of 15-inch phase 1 Speedlines and wrap them in comfort-led rubber.
The Laguna rims looked okay – in a Hot Wheels with oversized wheels kind of way – but they robbed the Safrane of its USP: ride comfort. A brief drive in the £200 Safrane convinced me that an uncomfortable Safrane isn't a proper Safrane.
I couldn't be happier with the result. The Safrane now rides as Renault had intended, with the added bonus of a glorious five-pot soundtrack. Don't get me wrong, it's not quick, although sticking the four-speed auto in 'sport' mode means it'll hold on to each gear for longer, granting you access to both peak power and torque.
For those who care, the figures are 168bhp at 6000rpm, 211Nm of torque at 4600rpm, a 0-62mph time of 10.2 seconds, and top speed of 134mph. Scarcely faster than a 2.0-litre Safrane with a manual gearbox, but that's not really the point of the five-pot. Trust me, it sounds fabulous and is worryingly addictive. This might explain why I'm averaging just 23mpg – the official figure for urban driving.
Still, it's better than the soon-to-be-sold Toyota Camry V6, which I'll miss for its off-the-line pace and four cupholders. Just one slot for a café au lait in the Safrane would be nice, s'il te plaît.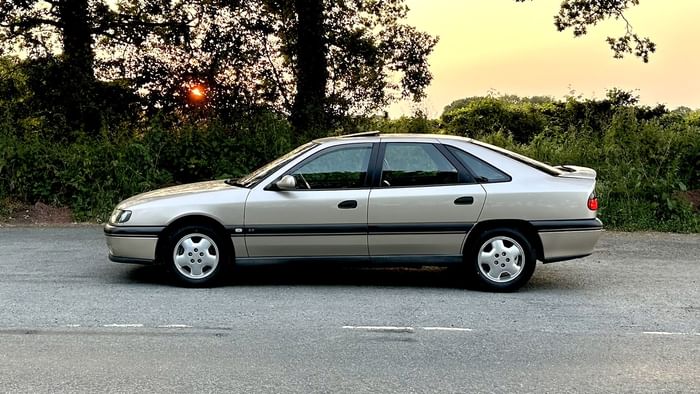 Speaking of selling cars, by rights, the Safrane should be leaving the fleet. I'm having a clear-out and, based on a strict policy of 'last in, first out', the Safrane should have left the barn. It arrived after the BMW Compact and Proton, which have found new homes.
The thing is, this is peak Safrane. Nobody has ever asked me to name my favourite Safranes – that didn't stop me from creating a top 10 list – but if they did, a five-pot Safrane would in the top three, alongside the BiTurbo and V6 Quadra.
In many ways, it's a poor relation of my 2.0-litre Safrane. Multiple previous owners instead of two; very little service history rather than a box file full of receipts; slightly tatty Barley Gold paintwork and not the £200 Safrane's near-perfect Pearl Black beauty; plus an MOT advisory for a rusty bottom. So why am I thinking of selling the black one when I should be getting shot of the gold member of the fleet?
Quite simply, because the five-pot car has opened my eyes to the magic of owning a Safrane with a characterful engine. All of the comfort with a symphony of noise. It's also got a few extra toys, such as heated seats (not working), functioning air con (needs a regas), voice synthesiser (works when it wants to), decent Alpine stereo with CD autochanger, and electric adjustment with memory function for the front seats, etc.
Thanks to Mike, it's even got a fabulous, European-spec rear window blind. This, combined with the run-out spec front grille, bi-xenon HID headlights and phase one alloys, make it feel just that little bit more special than the £200 Safrane. Oh, did I mention the five-pot?
There's even a chance that it's a Questor, although the absence of the Philips 'Carin' navigation system, plus the fact that it's registered as an Executive model, suggests that it's not. That said, it does have the Alpine 100-watt stereo and Comfort pack, so maybe the now-removed Questor badges were telling the truth..
If one of the car's previous owners can confirm or deny its status as a Questor, I'd love to hear from you, although finding a replacement sat-nav unit could be tricky.
This was supposed to be a short piece on my blossoming romance with the Safrane. An admission that I could have found my perfect partner; the comfort of a French barge combined with the joy of a five-pot engine. It even corners well, which isn't something I could say about the Camry.
Other cars will be departing the fleet this summer, but if I can control the rust and sort a few of its several problems, this Safrane will be staying put. My noble 'Questor' to find my forever car could be over...
Big thanks to Mike for entrusting me with this gold nugget.