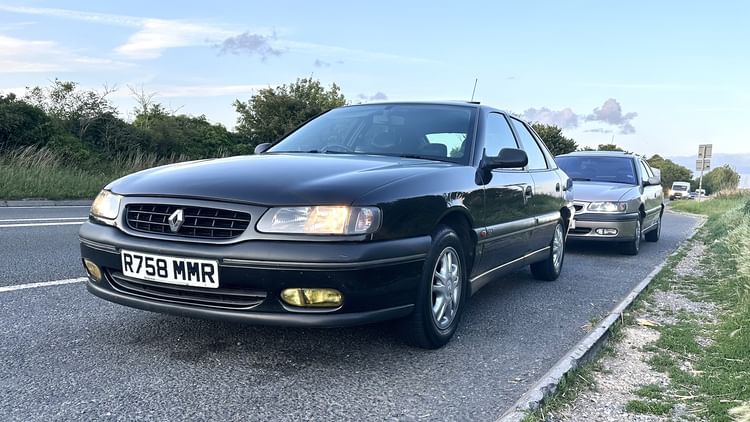 The '£200 Safrane' is for sale. I guess it had to happen at some point, but two things have accelerated its departure from the Petrolblog fleet.
One is the arrival of the Safrane 2.5, which, for five good reasons, is superior to the Safrane 2.0. It might lack the mountain of receipts and the overall condition of the Pearl Black beauty, but it's all about the five-cylinder. I love it.
The second reason is the feeling that I've closed the loop. Allow me to explain.
I bought the '£200 Safrane' in December 2019. My son, who was 14 at the time, joined me on the collection caper, sharing the highs and lows associated with travelling 200 miles to buy a car we'd neither seen nor driven.
We needn't have worried. Arriving at Robin's house in Clapham, we discovered a Safrane that had been cherished by its owner for the best part of two decades. We couldn't believe our luck.
Not that this stopped the journey home being a voyage of agitation. Senses on overload; every odd sound and questionable smell must be coming from the car, right? One eye on the dashboard dials, the other on the mirrors checking for smoke. I love buying cars blind; I must get a kick out of the game of chance.
The car was faultless; even more comfortable than the first class seats we enjoyed on the way to London. Yes, we spent half the value of the Safrane on a pair of premium rail tickets. It was worth it for the endless supply of fruitcake and the free coffee refills.
That was three-and-a-half years ago. Aside from a lengthy spell in hibernation while I searched for a new windscreen, the Safrane has been a joy to own. A few niggles here and there, but nothing expensive. Selling it seems wrong.
But the time is right.
Earlier this month, my son joined me for another Safrane adventure. The destination was the Festival of the Unexceptional, but rather than driving up together, we made the trip in separate cars. Me in the '£200 Safrane', my son in the five-pot. Curiously, my son could arrange temporary insurance on a Safrane 2.5, but not a Safrane 2.0...
He passed his driving test in January, but this was his first properly long journey. A 270-mile drive on a Friday, in the summer holidays, in car he didn't really know. Indeed, this was the five-pot's first proper shakedown since its fresh MOT in April. Was I nervous? Yes, very.
In December 2019 I was keeping an eye on the mirrors for smoke; this time I was checking on the well-being of my son. It was like having the heebie-jeebies associated with saying farewell to a child for their first day at school, but spread over a journey of 270 miles and six hours.
I'll spare you the emotional father-and-son stuff, but as we drove home on a near-empty A303, sun setting behind the Wiltshire hills, it dawned on me that it was time to say goodbye to the Safrane. We'd completed it, mate.
I'm not sure anything I could do in the '£200 Safrane' could top that. Me, leading a two-Safrane tandem home from Lincolnshire, my son following behind and having the time of his life. Cars connect us in different ways, but even though we were travelling in separate cars, I had this immense feeling of pride; that's my boy behind me.
We shared so many laughs on the journey home from Clapham, but this was different. Every time we regrouped at a service station or café, we had stories to tell; things to say about our cars. My son was quick to remind me that his car was faster and sounded better. I couldn't argue with him.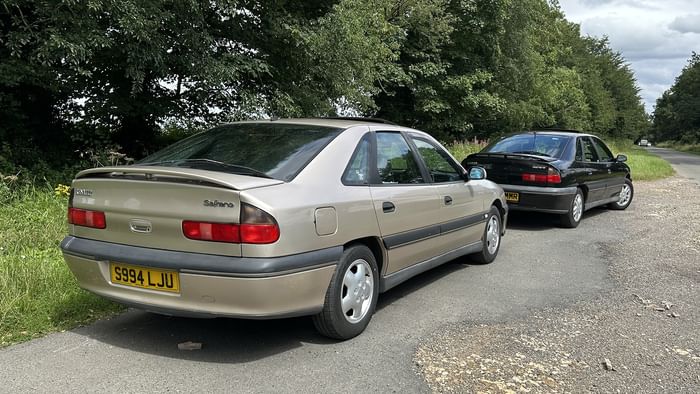 The '£200 Safrane' has been for sale on Car & Classic for a week, and aside from one enquiry, the advert has received as much interest as a beef burger at a Vegetarian Society convention. Maybe it's because I'm asking more than £200...
In fairness, it's in tip-top condition, has an MOT until April 2024, is wearing a relatively new set of Falken tyres and was treated to a new windscreen earlier this year. It's also rocking a pair of yellow fogs.
I'd rather not throw it to the lions of eBay, which is why I'm sticking it on the front page of Petrolblog. I'm not currently on the social channels, so feel free to share this with your friends and colleagues; there's a packet of Hobnobs available if it leads to a sale.
Thank you.