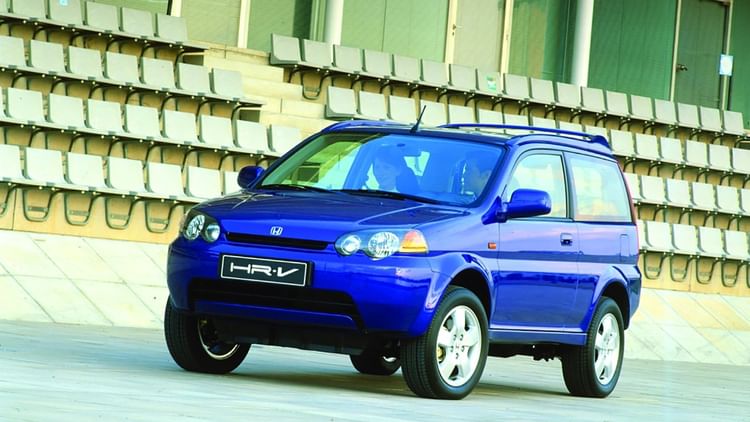 Ben Carter shares PetrolBlog's love of the Honda HR-V. For this week's Shednesday, he's selected four prime cuts from the Facebook counter.
Merry Shednesday. I have never really been one for motorsports, apart from a brief interest in D1 and Formula Drift (blame a former obsession with the Initial D anime). I even went on a drifting trackday - I was terrible. Anyway, I recently started watching Extreme E, so in honour of that I thought I would see what cheap futuristic SUVs I could find.

Obviously they won't be electric as this is PetrolBlog, and a leccy SUV is always going to be out of budget (unless you happen to work for New Electric) .

For me, one of the most futuristic SUVs has to be the Isuzu Vehicross, but beasts like this are well out of budget. Which leaves me looking to another vehicle that's in budget and still looks great: the Mk1 Honda HR-V.

While I have previously protested my dislike of three-door cars with 2+ seats, the three-door HR-V does look suitably bonkers and definitely fits with the vibe of the two-door Odyssey 21. It arrived in 1998 and was built on the same platform as the Honda Logo.

Despite its size, there's just 285 litres of luggage capacity, so considering rear legroom is tight, I would suggest removing the rear seats in favour of a much bigger boot to make you the coolest cat at the tip. It's a kind of Japanese shooting brake.

I have found a few options, depending on your preferences:

The bulgey, bad pics one
This 2002 car
has some extra silver bulges that the others don't. They likely suggest it's some sort of special edition, but my internet research yielded nothing. Feel free to enlighten me in the comments below. Either way it has a leather interior, an MOT, VTEC, four-wheel drive and a manual box. It's also done 140,000 miles costs a grand and is in Eastbourne.
Finally, it has a private plate that is probably worth more than the car; so if you can get that as part of the sale you're onto a winner.
You'll be waiting a while for the VTEC to kick in
This
next option
is a year older, has done 121,000 miles and come with an MOT. However it doesn't appear to have four-wheel drive or VTEC, but it does have a sporty interior and a manual box. It's £675 and in Leeds.
Cheap for a reason
This other 2001 car
is probably my favourite colour of the bunch. However, while it's the cheapest at £275, it does need work. And a cat (presuming seller means catalytic converter? If so they're about £70 from eBay). It has done 121,000 miles, it's in York and has an MOT. 
This one has sold. Did you buy it, Ben?! – Ed.
Modify!
The
last option
is a bit a curveball as it has five doors. It's also been modified and had some money thrown at it, which hopefully means it's been looked after. It's the most expensive at £1,200 but it does have four-wheel drive, VTEC and apparently puts out 125bhp, versus the other cars' 103bhp. It also has an MOT, has done 135,000 miles and is in Hertford.
Over to Gav for his insight (no Honda pun intended).
What does PetrolBlog think?
Ben knows the way to PetrolBlog's heart. A Mk1 Honda HR-V will always be preferable to the promise of champagne, roses and a candlelit dinner. Or should that be
bubblewrap, ashtrays and joy
?
A Mk1 Honda CR-V is on an admittedly long list of cars that could enter the PetrolBlog fleet, but a HR-V would be a good alternative. Ben would score top marks for this week's Shednesday, but he loses points for failing to find a Mk1 Honda HR-V in
baby poo yellow
. Oh, and still no
Proton Coupé
?
Also read: