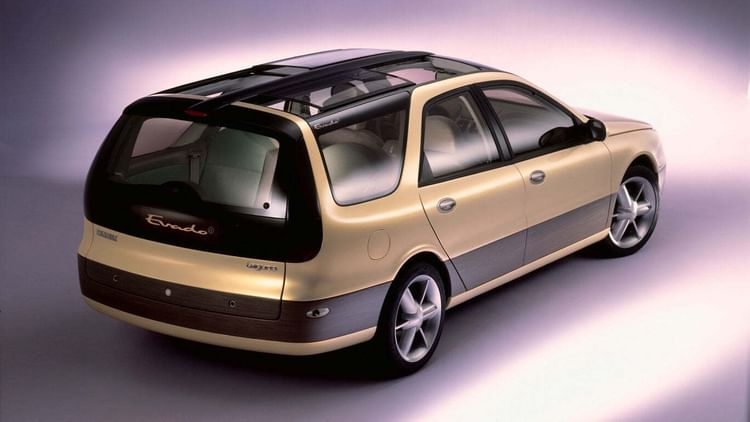 PetrolBlog asks, is the Renault Evado concept, unveiled at the 1995 Geneva Motor Show, the best Laguna we never got? Some 'wood' say so...
The internet is a wonderful thing. One minute you're researching a piece on Volvo estate cars, the next minute you're reminiscing about the Renault Evado concept from 21 years ago.

Don't ask me to explain how I jumped from the Volvo 850 to the Renault Evado, because I've got no idea how my brain works. But as I sat there staring at the wood-infused Laguna concept first shown at the 1995 Geneva Motor Show, I realised it needed a home on PetrolBlog. So here it is, in all its real wood and glass glory.

Yes, that is real wood. Quite clearly, Renault was paying tribute to the American station wagon by lacing this Laguna with a bit of timber panelling. No doubt somebody on the Renault stand was asked to pop into Geneva to stock up on Mr Sheen because, as every French carmaker knows, Mr Sheen shines umpteen things clean. Even stillborn Renault concepts.



Despite the all-American real wood trim (note: no vinyl nonsense, a la AMC Eagle), this was very much a French concept car. It's all about the three rows of seats, you see, which hark back to family estates of old, such as the Peugeot 505, Renault 21 Savanna and Citroën CX Familiale.

The Evado was a six-seater, with a hifi/CD unit built into the centre console for the second row of seats. In true motor show concept style it packed the full quota of FOUR sunroofs with electrochromic glass and driver-operated remote-control tinting. Could you imagine the world of pain awaiting an Evado owner seven years down the line? Think about the ad:

For sale: rare Renault Evado, two previous owners, MOT until June, some service history, 98k miles, two of the electrochromic glass sunroofs are stuck open, water stains to some seats, Renault specialist gave up trying to fix, hence low price. On the plus side, the wood panels are only showing minor signs of woodworm.
Wandering into a Renault dealer in search of a quick fix would either end in disappointment or a financial catastrophe. Probably both. You've just got to pray the sunroofs were stuck shut and not open. Unless you happened to live on the Côte d'Azur. Or didn't mind getting wet.
The question is, would you rather have a quad-sunroof Evado or the eternally beautiful
Laguna Monaco GP
? Answers on a postcard, usual address.