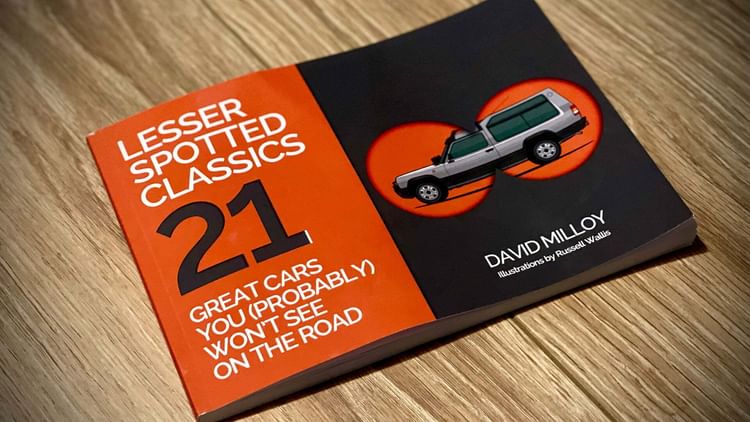 David Milloy has written an excellent book on Lesser Spotted Classics. It's better than a book on the Lesser Spotted Woodpecker. Probably.
Author David Milloy says he's not one for "bigging-up" his own work. So it's up to PetrolBlog to tell you that you really ought to buy a copy of Lesser Spotted Classics.

It is, as the name suggests, a book on rare classic cars. Nothing too exotic; the 22 cars featured in the book are well within the realms of PetrolBlog. Citroën GS Birotor, Matra Rancho, Renault Avantime, Renault 16, Citroën Dyane and the Renault Alpine GTA V6 for a healthy dose of French goodness.

Hang on, doesn't the cover promise 21 cars? Apparently Amazon requires a minimum of 100 pages for printing, so the Alpine was added like a late French substitute at Euro 2020. A nice injection of pace at the end of the game, Clive.

It's a great book. David knows his stuff, but he writes in a manner that's authoritative yet accessible. He says of the Rancho: "The result was a vehicle that looked more like a Range Rover that had been on a Charles Atlas body building course than the offspring of a small light commercial vehicle. Nobody was going to kick sand in a Rancho's, er, grille.

Dyane, no Morgan
He also provides a wonderful summary of the Citroën Dyane. "If you should see a Dyane when out on your travels, don't be tempted to think of it as a poor relation of the 2CV; it is, after all, an even better version of the greatest car ever made..." Nice.
The book is a good size, so it'll fit in the glovebox of a French car that's been converted from left- to right-hand drive. The fact that there's a Rancho on the cover more than justifies the bargain price. It's
currently £6.50 on Amazon
.
If that's not enough, the illustrations are by friend of the show and
Club PetrolBlog
member Russ Wallis. They're black and white, which seems to make the whole thing easier on the eye.
Come for the French cars, stay for the eclectic mix of motors. An
MG Maestro
 sandwiched between a Lancia Montecarlo and Bond Bug. Brilliant.
If that's not enough, 25 percent of the royalties will go to charidee. Not 'alf, mate.
Also read: