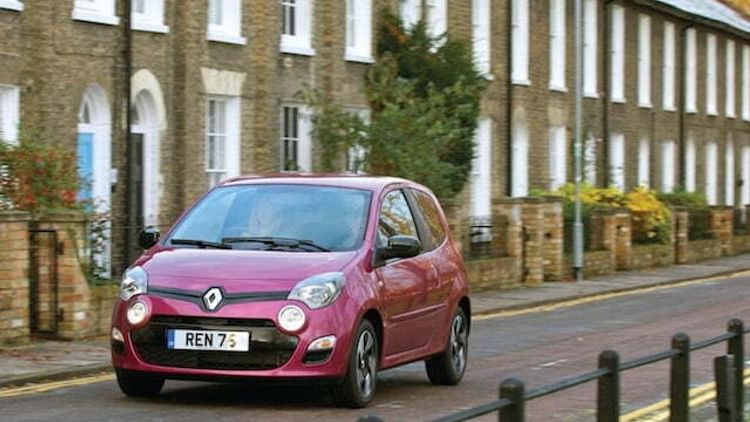 Robin Brown joins PetrolBlog and his first assignment is a review of the 2012 Renault Twingo.
I'm delighted to say that Robin Brown has joined PetrolBlog. We haven't quite worked out his job title yet, but his role will include new car reviews, some general waffle and a fair degree of bunk. Safe to say he'll fit right in then? Oh, he also drives a Ford Puma. Nice.

For his first contribution, he reviews the 2012 Renault Twingo.

Wouldn't it be great to find out that all those apparently-meaningless car names actually stood for something a little bit more, well, meaningful?

For instance, the Ford Mondeo. What does it mean? As far as I'm aware it doesn't mean anything; it's just one of those faintly aspirational '90s words that's rather like a pastel emulsion made into word form. But imagine it stood for Mondegreen Eosophobia (an unreasoning fear of daybreak).

Or the Vectra. Perhaps it could be short for Vector Tramadol. Maybe Laguna actually means Labrador Guacamole Iguana. No, of course they don't. That would be ridiculous.

But consider the Renault Twist Swing and Tango. Better known, probably, as the Renault Twingo. On the face of it this might not amount to much – or might be written off as a bit of frippery. But actually the Twingo's name tells us something about what this car is supposed to be doing.

Back in the late '80s car manufacturers started to realise that they could sell cars directly to women, without any patronising drivel about families or second-car runarounds. The resulting adverts tell us a lot about how the car industry has tried to sell cars to young, single women over the year: and most of them probably started with someone writing the word 'salsa' on a whiteboard.

We might reasonably conclude, then, that the Twingo is fun, funky, cheeky and designed very much for the urban environment. Well, mostly. The 2012 refresh gifts the Twingo a bit of good-looking body kit at last, with some large headlamps, alloys as standard and revised panels that make the little Twingo stand out a lot more. Buy one in Bermuda Blue or Fuchsia and you will never worry abut standing out again.

The reason behind the Twingo's much-needed makeover is the growing desirability of city cars. Where once city cars were cheap, occasionally cheerful, basic and generally pretty dull car-makers have cottoned onto the fact that with downsizing all the rage there's a reason to compete in this sector.
And cars like the Fiat 500, Smart ForTwo, Toyota iQ and Volkswagen up! have proved that daft punctuation, some multimedia functionality and a cool interior are big tempters for buyers of small cars.
As a result the new Twingo gets dozens of paint combinations and the single Dynamique trim offers Bluetooth, audio inputs and a CD player as standard - all signs that Renault knows what it's doing with this refreshed Twingo. The interior? Well, it's not up to the likes of the iQ or up! in terms of quality, nor can it match the 500 for joie de vivre, but it's a small step up from the previous model.
There are only four seats, however, and the boot space is tiny with the rear seats pushed back. There's good room for driver and passenger, though, and an oddly high seating position that might be designed to offer something akin to the 'command' driving position that the fairer sex apparently enjoy.
I think the Twingo's best characteristic is in its driving manners. It's extremely chuckable; it offers good feedback and body roll is fairly minimal. With the 1.2-litre petrol engine my test car had it's an excellent point-and-squirt mini car that's good around town and quite enjoyable on back roads.
What I didn't like was the bizarrely garrulous stick shifter; so intent on communication I could have told you its lifestory after a few days. The feel of what a gearbox and engine are doing can be rather disconcerting, though with a brand new car it's conceivable it just wasn't run in I guess.
Renault says the engine will manage 55.4mpg - not bad for a razzy little petrol engine - but long gearing in fifth means overtaking maneuvers at motorway speeds can be spirit-sapping and require a lot of stick work. If you're prepared to take it for what it is, a 1.2 petrol with neither power nor torque above 80, then you'll find a powertrain that will reward you at the pumps and only ever feel strained at over 70mph.
I don't think car-buyers are as gauche or so easily led as they were back when these little cars started being churned out for the young, single and female demographic. In a world where austerity, value and longevity matter as much as coloured bumpers and nifty door handles the Twingo's practical facets complement the cosmetic. At over ten grand it's not cheap but a clever specification and eye-catching  four-year warranty, servicing and roadside cover will appeal to the discerning buyer.
As such the Twingo moniker seems unsuited to the car's more mature nature. Does the Twingo have that certain je ne sais quoi that the funkiest city cars have? Not quite, but it strikes a decent balance between quality and snazziness. The Twingo doesn't make me think of Latin American dancing. It makes me think of a school-run Mum heading down to the shops playing some Ricky Martin on the stereo.
Robin Brown has joined PetrolBlog and this is his first contribution. Expect much more from the chap in the future, but in the meantime follow him on twitter @robinbrown78.
PetrolBlog Score:
Renault Twingo Dynamique 1.2


Pint of milk: Farty little engine works well with strong chassis: 7.

Filling station forecourt: Getting better, but avoid more exotic paint jobs: 6.

You don't see many of those: Plenty of Twingo action on UK - and particularly continental - roads: 

3

.

Is it worth it?: Just the one trim and engine unless you go Renaultsport - and it's not that cheap: 5.

PetrolBloggyness: Some decent B-road-osity apart, there's little PBness evident here:

5

.

Total for the Renault Twingo Dynamique 1.2: 

56

/100.

Details of scoring can be seen here.
Facts and figures:
| | |
| --- | --- |
| Price: | £10,350 |
| Ins. Group: | 9 |
| Max speed: | 105mph |
| 0-62mph | 12.3 secs |
| Urban MPG: | 42.2 |
| Combined MPG: | 55.4 |
| Extra Urban MPG: | 67.2 |
| CO2: | 119g/km |
The PetrolBlog Alternatives:
Sub £10k: 2011 Fiat Panda 1.2 Dynamic
Why have a Dynamique Twingo when you can have a Dynamic Panda? We're big fans of the Fiat Panda here, so it will come as no surprise that we see one as a real PetrolBlog Alternative to the Renault. Not only does this 2011-registered previous generation Panda save £4,000 on the list price of the Twingo, but it also adds an extra two doors to the mix. So it offers greater practicality, enough room for four adults and will save you a few bob in the process. What's more, this particular Panda comes with the all important air conditioning plus the balance of a three-year warranty. And with less than 9,000 miles on the clock, it's a veritable bargain.
Check out the
Fiat Panda 1.2 Dynamic for sale on eBay
.
Sub £5k: 2008 Renault Twingo 1.2 Dynamique
Fancy a Twingo but don't fancy forking out over £10k for the privilege? Well how about a pre-facelift model for half the price? This particular car looks good in blue giving it a near Renaultsport feel, (if you squint hard enough), and is arguably prettier than the the facelift model. It's for sale in a retirement area of East Sussex, so there's every chance it's led an easy as it reached 31,000 miles.
Check out the used
Renault Twingo Dynamique for sale on eBay
.
Bangernomics: 1986 MK2 Ford Fiesta 1.1 Ghia
Despite the annoying 'time warp, not a MK1 XR2 Escort Barn Find' listing, this Fiesta is a little gem. Just one previous owner and in a totally original and unmodified condition, it looks superb. It shows how much has changed in the car world when you note how little you got for the Ghia spec in those days. A tilt sunroof, radio/cassette and digital clock was enough to keep buyers happy back in the mid '80s. No multifunction, multimedia, multioption nonsense in those days.
At £1,500 it's reasonably priced and if the condition is as described, it's likely to hold its value too.
Have a look at the
MK2 Ford Fiesta Ghia for sale on eBay
.
eBay ads current at the time of publication (18 August 2012)