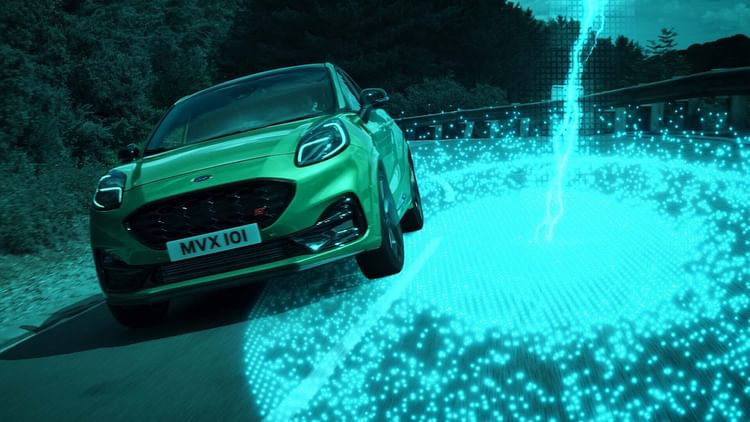 William Dickey has thoughts on Ford's current naming policy and an idea for an advertising campaign for the new Mustang Mach-E electric car.
William Dickey made his PetrolBlog debut with a story linking the Ford Cortina with songs. It's one of the most popular articles of 2020. Hat tip to you, sir. Now, William is back with his thoughts on Ford's decision to use names from its back catalogue. He has an idea for an advertising campaign for the Mach-E electric car. Over to you, William.

As a child of the 60s, I have a soft spot for Ford. My first memory of any sort of car is my father's Anglia estate. Before any journey, the race was to be the first of the siblings through the tailgate into the boot. Where we could occupy ourselves attempting to crush the unfortunate third who ended up in the back seat by undoing the catches and folding the backrest forward.

This was many decades before games console screens were built into the backs of front seat head restraints. And long before head restraints, seatbelts, child seats and Isofix. As I recall, we were never bored. And, remarkably, we never ended trips with fewer fingers than we started with.

Anglian Lives
A recently recovered photo from that era indicates that the Ford Anglia was not as wonderful as I remember. One wing was held on by chicken wire – the 20th century equivalent of cable ties – while the driver's side front wheel does not appear to have been anywhere near Dagenham or Halewood.
But had Rudyard Kipling been born a century later than he was, he could have got mileage out of a story of a feral child raised among rubbish Fords and dysenteric farm cats who reluctantly returned to human civilisation and probably too late to do any good. And my father's career was reflected in his Ford timeline: moving up to Corsairs, peaking at a Zephyr V6, then a series of
Cortinas
before retiring into Escorts.
My first car was a 10-year-old Mk1 Ford Escort 1300 L automatic. Mindful of the long line of cars which tended to accumulate behind me on excursions of any length, I once took it to a deserted motorway in the early hours of a Sunday morning with a stopwatch and discovered it had a 0-60 time of 32 seconds.
I left it in a shed and moved on to non-Ford sporty cars, but it kept reappearing like Tom Cruise in
Edge of Tomorrow
 as a replacement for the cars that ended up in ditches. To this day, I am unclear how meeting my peer group in a
Volkswagen Scirocco
one weekend, then in an Escort with rust brown vinyl upholstery and matching sills the next, impacted on my potential life options at the time.
Eventually, welding lost the battle against terminal corrosion, but years later, another Ford – an Orion 1.4 L, with the only extravagance the optional five-speed gearbox – was the rebound choice after a spectacularly unreliable Alfasud. It kept my desire for stupid cars in remission for about four years, until the sheer unmitigated ennui became too much to bear and I chopped it in for a 12-year-old
Prelude
.
Hello Puma
I had drifted away from Ford as a thing until recently, when I found myself in one of its showrooms. I needed to use the toilet. Studying their merchandise with feigned interest to take the bad look off things, I contemplated the bloated cross sections expecting Gabriel Oak to rush in anytime with his trocar to decompress their rumens the way he saved Bathsheba Everdene's inflating sheep.
But the whole place reminded of those bizarre Hello Kitty shops that you find at airports and on trendy Pacific Rim shopping streets. Where there is a series of rotund characters available for purchase, all identical, but in a selection of sizes.
A range of cars exactly the same except for scale is no big deal: Audi has been very good at it to the extent that you're never sure whether you're looking at a
small Q3 or a Q7 that's far away
. And when an outlier like the Q2 appears, you wonder if it was
actually meant to be a Talbot
.
But what has really got people's backs up is the insistence that these new Ford-Russian-Doll-SUV-thingies should be named after beloved coupes from Henry's back catalogue.
Initially, Ford was smart about it. The first one not Cougar, but Kuga. Ford got away with it, as most social media warriors assumed it was named after one of the Thundercats. Emboldened, Ford then went for Puma – instead of 'Pughmah' – and we all know how badly that went.
I have it on good authority that Ford will go back to the Newspeak/Nadsat theme for the Ecosport replacement. It will be called the 'KaPree'. This not only covers the coupe angle, it continues the theme of every new iteration of their smallest model being exponentially more depressing.
Most importantly, it will not trigger the internet storm of
The Day After
proportions that
Capri
would. And they will be making it very, very clear that their upcoming big giant Touareg rival is called Thunderbird, not after the popular American personal coupe, but Virgil Tracy's heavy duty transporter. Even if they have to make it available only in green.
Turn up the Wick
Meanwhile, the elephant in the room (literally) is the soon to be released Mustang Mach-E. As I like Ford, I propose the following advertising campaign. It involves Keanu Reeves, so it won't be cheap, but hey, what price mitigation?
Scene: A Mustang Mach-E is plugged into a charging point.
John Wick
(for it is he) is sitting on a chair reading a copy of
Beagle Monthly
and waiting for the fecker to charge. Three suspicious looking gentlemen roll up in a BMW i3. They exchange light-hearted yet sinister banter in Russian before clocking the great big battery SUV.
Iosef Tarasov (for it is he): Nice ride.
John Wick: Mustang.
(Now, in any other universe you'd expect Iosef to start laughing nervously and get the hell out, pronto. What sort of psychopath would pretend an SUV styled by Centro Stile Signor Blobby shares its name with an American legend? But this being our continuum…)
IT: Mach-E. She the AWD?
JW: First Edition.
IT: Beautiful car.
JW: Thanks.
IT: How much?
JW: Excuse me?
IT: How much for the car?
JW: Ah. On Ford's Personal Contract Scheme, £630 a month with £3,000 initial payment.
[Author's note: This is a guess. I have genuinely no idea. The sort of cars I buy now, my finance plan involves not eating out for three months then paying cash.]
Wick gets back into the car. As he is about to drive off, Iosef's pal leans in the passenger window and says: "You have… good day, sir."
Voiceover: "John Wick drives a Mustang Mach-E. As a result, a dog and 79 people are still alive. Have… good day with Mustang."
[Author's note: The sort of people who watch films with a wee clicky counter thing will tell you John Wick killed 77 people in the first film. But Willem Dafoe and the guy left to look after Ms. Perkins would probably also still be alive.]
It might just work. And we could also have an ad where John gets his heavy ordnance and those funny coins he buys stuff with out of the innovative MegaBox™ lower load compartment in a belated attempt to rehabilitate the Ford Puma.
And I will leave the last word to Iosef's dad in the Ford Credit commercial:
Viggo Tarasov (for it is he): Let me tell you about John Wick. I once saw him sign his finance agreement with a pencil. With a ****ing pencil.
Read more Ford