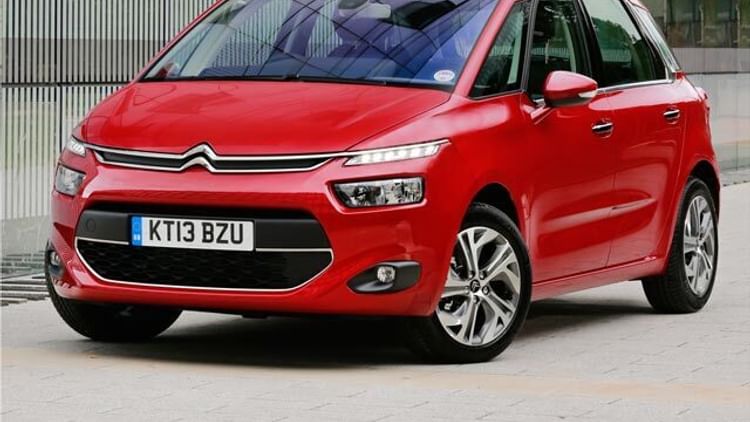 Robin Brown tests the all-new Citroën C4 Picasso and argues that, no matter what he thinks of the car, it will most likely sell like the bucket and spade loads.
Citroën has a reputation for innovation and creativity. Thinking outside the box, or blue-sky thinking they call it these days. I tend to think of it as a dash of typical French insouciance, stubbornness - in the same way that in the French countryside they defend the right to drown sparrows in Armagnac: why shouldn't we have air suspension? Why shouldn't we have a steering wheel that doesn't move in the middle? Why not sell a vast Gallic barge that costs forty grand and sells in single figures (in its last full year the glorious C6 sold just six models).

So it seems fitting that Citroën has seen fit to reinvent the MPV with the new C4 Picasso. How so? Well, it looks nothing like an MPV. There's something of the hatch, estate and even SUV about it. From the rear three-quarter angle it looks very smart, depending on the trim level the interior looks Audi or BMW-class; a spot of DS class bleeding into the C range.

The facts and figures look promising too. The new C4 Picasso sells from £17,500 and is the first model on the new PSA Peugeot Citroën EMP2 platform, which you can expect to see pressed into employment on many more cars on UK roads across the Citroën and Peugeot ranges and, conceivably, Vauxhalls if a mooted tie-up with General Motors Europe goes ahead.




It's shorter in height and length than the previous model and weights 140kg less, no mean amount on such a car, and yet has more interior space. Boot space is 'class-topping' and extends to 630 litres and a load space of 2.5 metres with the front seat folded down. You could probably fit two horses inside.

Citroën is good at this sort of space-juggling and the interior gives the driver and passengers much more visibility too, with exquisitely narrow A-pillars. The panoramic windscreen, which comes as standard, is wonderful - flooding the cabin with light - and the sliding sun visors a clever touch. There is more glass here that a Richard Rogers tower block.

What else? Well, Citroën says it's the first car of its class to sneak under 100g/km with the 90bhp eHDI powertrain. Good for them; there are many powertrains available of petrol and diesel flavour. While I wasn't able to sample the petrols I can report that the HDi 90 manual VTR+ - feels underpowered and the e-HDi 115 manual 6-speed Exclusive feels about right.

The drive and ride? Well, this is where things get tricky. While Citroën says handling has been improved the C4 Picasso doesn't feel very nimble. Not only that, the car feels unsettled over poor road surfaces, even breaking traction when cornering at a sedate speed over some uneven tarmac at one point. While the car will cruise comfortably and take speed bumps in its stride, it crashes over potholes. Like the DS5, it feels too stiff to me.

But here's the thing. Do customers really care? Citroën says that of all the customers who've given feedback on their DS5s - a car that every single motoring journalist I've discussed it with has criticised the ride - not one has mentioned the ride quality. This touches on something we mull on PetrolBlog from time-to-time - do car-buyers give a hoot about the things that car nerds think are important? Clearly not, the Citroën Xsara Picasso sold 275,000 units and was one of the most unpleasant cars I've ever driven. Objectively bad, I'd say.

The new C4 Picasso is not objectively bad. It's not even subjectively bad. It's a car that has a lot going for it and the sort of car that people who buy SUVs will love. But there are a couple of things that are objectively poor: the binnacle catch under the seats (there are more storage spaces here than a Google server farm) has a sharp, hard edge that's more than capable of inflicting a nasty scratch.

The seven-inch touchscreen isn't especially intuitive and requires a patient finger - the manual equivalent of having to talk to someone stupid very... slowly... indeed... Users of smartphones will be tearing their USBs out in frustration. On all specs bar the top-level Exclusive+ the trim on the seats feels cheap and rather nasty in places; the manual tailgate feels heavy and doesn't have a grab-able handle; difficult if you're a bit wee and weak. I can never seem to get quite to grips with Citroën seating positions. And the ride just doesn't make sense to me.




The good? The more powerful diesel engine is lovely and refined (and the THP petrol engine one of the best around), the gearbox smooth, the running costs good, the safety rating and technology impressive, the interior space clever and plentiful, the looks different and natty and the ultra-low loading lip and boot floor something to genuinely get excited about, if you're inclined to get excited about such things. Exclusive models upwards get Citroën's space-age 3D-style rear LEDs that are spiffing and the interior on the range-topper a real revelation.




These models start at £23,460 for the THP 155 manual 6-speed Exclusive+ and they're a very strong proposition indeed. It's got lots of lovely toys, including active cruise control, a blind-spot monitoring system, park assist, and electronic footrest and massage seats and an electronic tailgate with a memory function. But it's the quality of the interior that really sets it apart - the top-spec car is seriously good quality. So much so I'd defy anyone to tell it apart from an executive-level interior without some serious prodding and chin-rubbing.

To lob in another physical expression of doubt, the new C4 Picasso has left me scratching my head. The VTR models are lacking in some departments; the Exclusives seem to want for very little. Roughly half of these models - when specifications and engines are taken into account - would leave me cold. The other half I would doff my hat towards.

No other car has ever left me with a feeling of existential crisis. Citroën listened to its customers when building this car; it filmed their interactions with it and asked them what they wanted. The result is somewhat schizophrenic but it seems to be what customers want - I can't help thinking back to the Xsara Picasso, easily the worst car Citroën has made in the last 20 years and probably the best-seller.

Acknowledging all that, does it matter one jot what I think of the C4 Picasso's ride quality? Am I, essentially, obsolete when it comes to writing car reviews? Aren't we all? Has anyone, out of all the people who have asked for my advice on buying a car, ever taken it? Not many, looking back. Most of them bought a bloody Audi A3, after all.




To sum up, this French MPV ticks all the boxes it needs to, gets a qualified pass on a couple of others and flunks the ones that don't matter. Isn't that a perfect lesson in how to make a volume car in these straitened times? Perhaps manufacturers should stop listening to motoring journalists; the last time they did the result was a Suzuki Kizashi with a CVT and 2.4-litre petrol engine.

Citroën has built a new C4 Picasso that it knows car-buyers will like, with 10,000 orders on the continent already. In that context a motoring journalist complaining about stiff suspension seems a little like a restaurant critic complaining about the gherkin on his Big Mac.