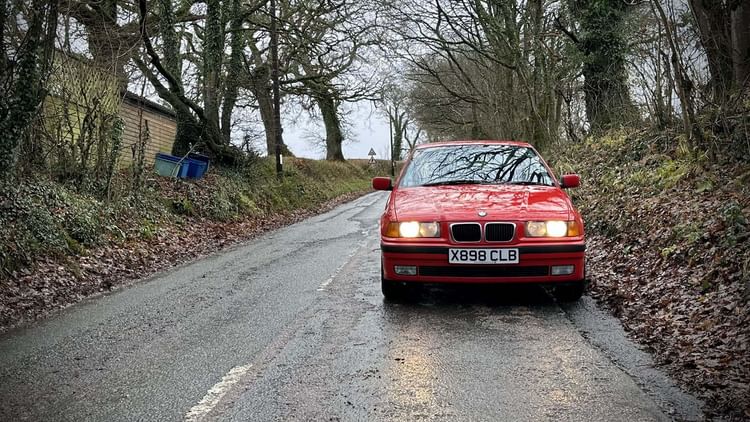 PetrolBlog's E36 BMW Compact is for sale to ensure the survival of the French cars on the fleet. You should buy it.
I'm not enjoying this. Buying cars is something I adore. It's the thrill of the chase. The drive home in a new toy. The 'getting to know you' period. Selling cars is a different story, which is why it pains me to say that my E36 BMW Compact is for sale.
Parting with a car can be a painful experience, especially if it's something you've bonded with. I'm not going to pretend that I've become emotionally attached to the Compact, but I don't want to sell it. It's a fantastic little thing and, I'm sticking my neck out here, probably one of the best Compacts in the country. 
Sure, it's not the more desirable 318ti, but as a 2000 model, it comes with a 1.9-litre (M43) engine, rather than the earlier 1.6. Progress is best described as 'brisk' rather than 'quick', but it feels faster than the 11.9 seconds it takes to hit 62mph would suggest. It's all about the additional torque, which delivers some extra shove when you're attempting to squeeze the best out of your favourite B-road.
Unlike many of the other low-mileage E36 Compacts you see for sale, it's got a manual gearbox, and unlike the current BMW 1 Series, it's rear-wheel drive. A small, rear-driven BMW in Hellrot, with 'gingercators', three doors, the face of an E36 3 Series and bits from the E30 parts bin.
You can see why I don't want to part with it. It's a good one. Just 42,000 miles on the clock. Essentially, one previous owner: a lady in Essex who kept it garaged in a gated development. A service book filled with stamps detailing 23 years of BMW dealer history. An MOT free of advisories in September 2022.
Since buying it in April 2022, I've fitted a full set of Falken tyres, bought a pair of replica period Hexagon BMW number plates (I have the originals), installed a pair of genuine BMW electric window regulators (an E36 weak point), fed it on Shell V-Power and tended to a small patch of surface rust on the underside. Both the bodyshop and BMW dealer in Exeter confirmed that there are no further rust patches to be found.
In other words, a no expense spared approach, because I intended to keep it. The plan was to upgrade the suspension, because a couple of minor tweaks could transform the E36 Compact from an enjoyable hatchback into something you'd take on a dawn raid. I'd also replace the tatty bonnet badge, remove the aftermarket Sony DAB stereo, fit an original BMW Business head unit and treat the red paintwork to preserve its lustre.
Unfortunately, it has to go. The Peugeot 406 Coupé needs a new transmission, the gold Safrane 2.5 requires work to get it through an MOT, the Mégane Coupé isn't on the road, while the ZX 16v, Xsara VTS and AX GT deserve some love. The minty German must be sacrificed to ensure the survival of the tatty French cars. The other reason is the spiralling cost of building work, which is why the Proton with the illuminated grille was moved on. The E36 BMW Compact is for sale on Car & Classic.