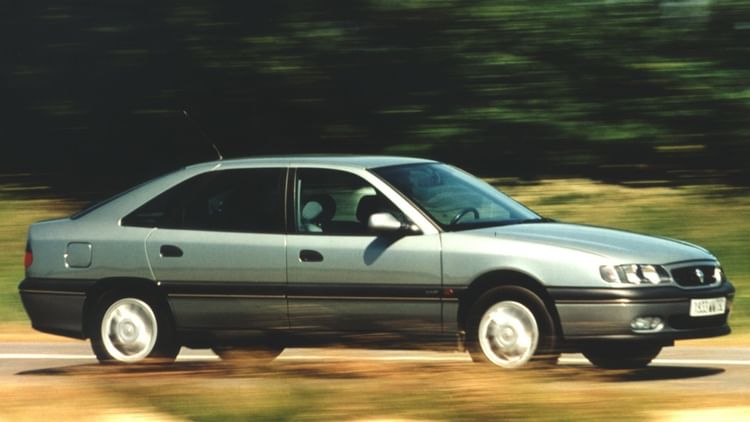 The problem with working from home is that you don't get to drive home for Christmas. Which is why I'm off to London to buy a £200 Renault Safrane.
I'm on a train to London. But I won't be travelling back the same way. Instead, I'll be driving home for Christmas in a Renault Safrane.

To get me in the mood for the French executive experience I'm travelling first class. It cost £10 extra, but the coffee is free, the wifi is excellent and the seats are supremely comfortable. I'm expecting similar levels of comfort from the Renault Safrane...

The Safrane is proof that I have a reputation for buying the cars nobody else wants. The fateful email arrived just ten days go. "Would you be interested or perhaps you know someone who might be?" Waving cheap French tat under my nose is like teasing a moggy with catnip.

"It's too good to scrap…" Oh.

Who in their right mind would be interested in a Renault Safrane that has been mentioned in the context of scrap? Who would buy the car – unseen, aside from a few phone snaps – then travel 200 miles on one of the busiest Saturdays of the year?

If you're familiar with PetrolBlog, you'll know that this is a rhetorical question.




I don't need a Renault Safrane. But I've always wanted a Renault Safrane, even if the dream spec would include 'Baccara' and 'Biturbo' in the description. Instead, this Safrane is the powered by the relatively undesirable 2.0-litre engine, rather than a six- or five-cylinder lump. Jacques Chirac would not be impressed.

Still, it claws back a few presidential points by coming in the more-to-go-wrong Executive trim.

All is calm...
Right now, in the comfort of first class, all is calm and all is bright. But come this afternoon, I'll be tussling with crossovers on the M3, trying to keep up with the Germans on the A303 and stocking up on supplies at the Wing and a Prayer store. To think I could be at home drinking mulled wine in front of the fire.
But where's the fun in that?
The Renault Safrane is the final piece of the jigsaw. It follows the
Toyota Camry
as the 12th member of the
PetrolBlog
fleet – which from this point forward shall be known as the 'Dirty Dozen'. Next year could be an interesting experience.
I'm like a rubbish version of Jay Leno, with a list of cars that makes Tyler Hoover's fleet of 'Hoopties' look lavish.
Wish me luck. I might need it.
Edit: the Renault Safrane made it home. Read the first report here.
&t=314s
Read more words about cheap French cars: