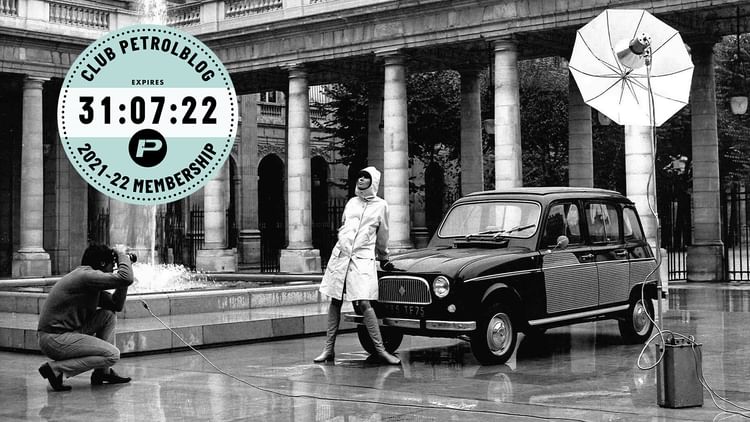 Club PetrolBlog members were asked to name the most beautiful PetrolBloggy car for the chance to win an exclusive illustration by Russ Wallis
What's the most beautiful PetrolBloggy car? In truth, Club PetrolBlog members didn't need the 'PetrolBloggy' distinction. We share a collective love of the mundane and the under-appreciated.

This is an opportunity to win a bespoke illustration by the talented designer Russ Wallis. You'll know him from Twitter. Just look for the wonderful illustrations. There are also plenty of examples of his work on his website. Check it out, but not until you've plunged into the sea of PetrolBloggy beauty.

These are the most beautiful cars in the eyes of the Club PetrolBlog jury. There are no supercars. No exotic badges. A complete absence of bling. Put simply, Club PetrolBlog members have fine taste.

Not everyone entered, presumably because they weren't sure if the Proton Coupé would qualify. Rest assured, it would. The names of everyone who entered will be drawn out of the Citroën tin cup of happiness. Stay tuned to PetrolBlog's rubbish YouTube channel for more details.

Ben Hooper: Isuzu Piazza
Ben wasted no time in nominating the Isuzu Piazza as his object of desire. "So effortlessly sleek and svelte, it's a concept car for the road. Those 'eyelids' on the top of the lights are just the peak of alternative cool. My desire for one is high," he says.
Nick Bailey: Citroën AX Sport
Nick Bailey's entry is his delightful Citroën AX Sport. Yes, 
his
AX Sport. Just imagine what the illustration would look like. Grab a cold flannel before you spend too much time with your imagination.
Andrew Bergin: Mazda Xedos 6
Andrew is the new owner of a
Mazda Xedos 6
, so his entry is as predictable as it is understandable. It's a beautiful thing and it could be appearing on PetrolBlog soon.
Jeff Longley: Volvo 480 Turbo
Jeff says: "Clearly the obvious choice is something that has some Dutch flair, some French underpinnings, with sprinkles of Lotus and Porsche. Yes, it's the Volvo 480 Turbo." Yet more evidence that Club PetrolBlog members have extraordinarily good taste.
Andy York: Citroën ZX 16v
Andy York is quite particular about his choice of
Citroën ZX 16v
. It must be a pre-facelift car, ideally in white. The PetrolBlog photo library achieved one of these things. Great nomination, Andy.
David Austin: Renault 11 (phase one)
David Austin, yes the guy with the
Renault 4 F6
, fancies the Renault 11. But not a TXE Electronic or
Turbo
. "A mid-spec, phase one Renault 11 is where it's at," he says, "as it might motivate me into making some effort into finding and buying the real thing." Having sold one of his
Twingos
, he's got a berth to fill.
Kenny Smith: Volvo C70 Coupé (phase one)
At the time of the Volvo C70 Coupé's launch, Volvo's head of design, Peter Horbury, said: 'I've tried to create a car that people will want, not a car people need.' Kenny Smith says this statement reinforces the C70's credentials as a PetrolBloggy car. "Even the designer is saying it's not for everyone, but those that get it will buy it," he told PetrolBlog. Quite.
Simon Burnard: Renault Laguna I
Simon says the original
Renault Laguna
is a "handsome and quietly forgotten car, which never received the praise it deserved". He has a point. Welcome to the Club, Simon. You're the newest member, but your nomination suggests that you'll feel right at home.
Tom Wiltshire: Renault 4
"What is more beautiful than utility?" That was the question asked by Tom Wiltshire when nominating the Renault 4. One thing's for sure, you'll be pleased if you look this good at 60.
William Dickey: Renault Avantime
Regular PetrolBlog contributor and
Renault Avantime
owner, William Dickey, has done the obvious thing and nominated his own car. You'd do the same if you owned an Avantime. You can
read William's latest words here
.
Martin Richardson: Citroën SM
Martin thought about nominating the Citroën BX before settling on the
SM
. His argument: "It's comfortable, practical and, in diesel guise, frugal. I also like the way it looks." Who doesn't, Martin? Who doesn't?
Daniel Foulcer: Renault Safrane
Daniel was going to nominate the Fiat Marea Weekend. It would have been good to see Russell's illustration of the Fiat wagon, but nobody at PetrolBlog is going to complain about seeing a
Renault Safrane
.
As the onion grower said to the supermarket buyer, that's shallot. It should come as no surprise to see that the list has a French flavour, but it's good to see some Japanese and Swedish influence.
Thanks to everyone who entered the competition. The prize draw will take place soon, then it's over to Russ to work his magic. Do consider signing up to
Club PetrolBlog
. It helps to support this independent blog and its supporting YouTube channel, plus you can win cool prizes, get a discount off new tyres and you might receive random biscuits through the post. You even get an email newsletter, but don't let that put you off.
Stay beautiful, etc.
Also read: