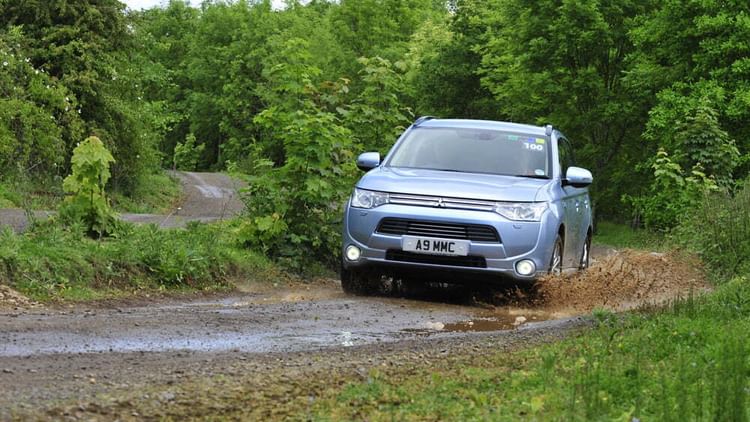 As Kate Humble gets given a Mitsubishi L200, PetrolBlog reckons Chris Packham should get behind the wheel of an Outlander PHEV. Everyone's a winner.
So, Kate Humble, star – but perhaps not literally – of TV's Lambing Live has become Mitsubishi's latest brand ambassador, following in the footsteps of horsey ladies Mary King and Emily King, plus celebrity chef Rosemary Shrager.

Kate, formerly of Springwatch and Top Gear (no, really), is said to be delighted with her new Mitsubishi L200, which she says is a "really practical all-round vehicle" and "rather sleeker" than her old one. It promises to be a match made in heaven.




But it got us thinking: could Mitsubishi UK be missing a trick? Noticing that Springwatch has returned to our screens – and having come to terms with the fact that it's not a show devoted to suspension systems – surely Mitsubishi should be taking on Chris Packham as a brand ambassador?

Allow us to explain. Of sorts.

Last month, we got to experience the all-new Mitsubishi Outlander PHEV in Gloucestershire. It's a remarkably unremarkable vehicle.

Remarkable in the respect that it's a 44g/km CO2 plug-in hybrid electric vehicle that costs exactly the same as the equivalent Outlander diesel. It's all thanks to the mating of a 2.0-litre petrol engine to a pair of electric motors, which provides 249lb ft of torque and a range of 32.5 miles on electric power.

As you may have seen from the TV ads, the Mitsubishi Outlander PHEV could return the equivalent of 148mpg on a combined cycle, yet still offer genuine SUV credentials, including five proper seats and four-wheel-drive capability. All for a post-government grant price of £28,249.

The unremarkable part of the Outlander PHEV's equation is that – for the most part – the SUV is a little on the dull side. The styling is hardly cutting edge, and to drive, the PHEV is largely forgettable. But hey, that could arguably be the Outlander's biggest strength.

Which is all well and good, but just where does Chris 'Really Wild Show' Packham come in? Well, the Mitsubishi Outlander PHEV has an ace up its sleeve. Thanks to its EV Drive Mode, it can pass silently through the countryside, without disturbing the wildlife.




Think of the possibilities. No longer would Chris, Michaela 'Hit Man & Her' Strachan and that other chap need to sit in a studio, watching in hope as a webcam zooms in on a nest of sparrows. Instead, they can tour the countryside, passing within inches of great crested newts, common toads and chiffchaffs.

And, thanks to the Forward Collision Mitigation system, Chris and his team need not worry about an unfortunate incident with a stag or New Forest pony. He just needs to remember to switch off the Acoustic Vehicle Alerting System (AVAS), as this alien-like sound might scare the birds.

Everyone's a winner with this idea. We tried it on the dusty tracks of the Badminton estate in Gloucestershire and it's a truly surreal experience. The potential for PHEV-style safaris and BBC wildlife documentaries is quite compelling.

So how about it, Mitsubishi? If an L200 is OK for 'our Kate', how about an Outlander PHEV for Chris Packham? After all, he does have nearly 40,000 more Twitter followers than Kate.

It's hard to see how anyone could lose from this deal. The BBC gets a mobile studio for Springwatch, saving the licence payers lots of cash in the process. The wildlife remains undisturbed and Mitsubishi gets 60 minutes of prime time exposure every day. Boom, bingo, result, etc, etc.

Read more: