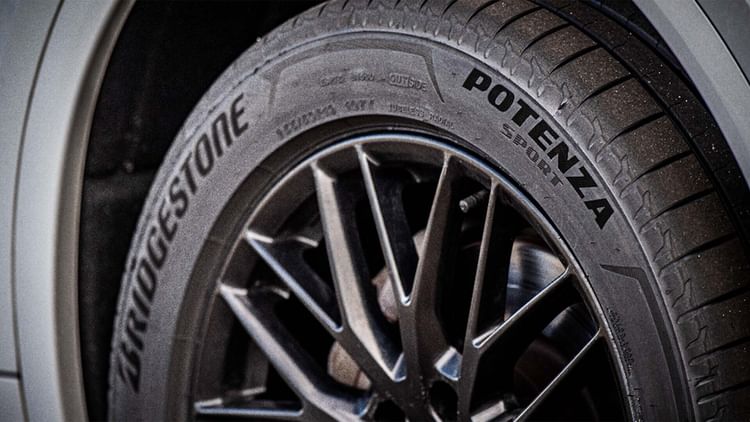 PetrolBlog tests a set of Bridgestone Potenza Sport tyres by spending a week with a BMW 318d. Living the company car dream, baby.
Buying a set of Bridgestone Potenza Sport tyres would put a sizeable dent in your household budget. At £85 to £250 per tyre, you're looking at anything up to £1000 to shod your car in the latest Bridgestone rubber.

It's hardly surprising, then, that so many motorists choose a budget or mid-range tyre. Drivers with no more than a passing interest in cars will assume that it's fine to cut corners when choosing new rubber. Price over quality. 'Give me whatever's cheapest, Mr Kwik Fit.'

This is the wrong attitude. PetrolBlog has long been an advocate of quality tyres, which is why the Safrane, W123, Xsara, Camry, Mégane, Range Rover and D-Max are all wearing fresh, matching rubber. Falken, Michelin, Continental or Yokohama, in case you're wondering.

Speaking of which, don't forget that Club PetrolBlog members get a discount off new tyres at Protyre. Apologies for the plug.

Granted, splashing out on four Bridgestone Potenza Sport tyres is probably overkill for many motorists. Bridgestone's flagship tyres are best suited to performance cars, SUVs and fleet vehicles. Cars like the 2019 BMW 318d I had on test for a week. More on that in a moment.

The best tyres you won't buy
I should point out that Bridgestone Potenza Sport tyres are likely to be unsuitable for the kind of cars we love on PetrolBlog. There are 96 tyre sizes available for 17- to 22-inch wheels. You won't be fitting them to your 1970s saloon, 1980s hot hatch or 1990s coupé.
Still, your luck's in if you've got your name down for the new Maserati MC20, as the supercar rides on a set of bespoke Potenza Sport tyres. If the rubber's good enough for a 203mph supercar, it's likely to be more than adequate for a diesel saloon or hybrid crossover.
Bridgestone spoke to 3800 motorists when developing the Potenza Sport, which is a replacement for the ageing Potenza S001. The result is a string of awards across Europe, including first place in the 
Auto Bild
UUHP summer tyre test. UUHP stands for ultra, ultra high performance, which is like a football manager calling someone a top, top player.
Looking at the
results on the excellent Tyre Reviews website
, the price is the only real negative. The tyres scored 100% for dry braking, wet braking and wet handling. Only rolling resistance could have been better (83.28%).
The excellent results were achieved thanks to a combination of new technologies, such as 3D sipes to increase stiffness. These grooves in the tread increase the tyre's stiffness, delivering enhanced dry braking. Further highlights include a new compound and hybrid crown for better wet and dry performance, plus increased stability at high speed. Finally, the casing has been developed for better steering feel and lower rolling resistance.
Rubbered up
Which all sounds great in theory, but what are the Potenza Sport tyres like in practice? Full disclosure: Bridgestone supplied a BMW for a week and asked me for my thoughts. I haven't tried the competing tyres, so I'm unable to draw any comparisons.
The BMW was a Bridgestone company pool car. A few miles on the clock, a warning light for an overdue service and a demand for more AdBlue. There was even an air freshener hanging from the rear-view mirror. Proper company car spec. I was tempted to leave it parked outside the nearest Travelodge, coat hanger on view in the rear passenger window.
It arrived on one of the wettest days of the year. But the biblical levels of rain soon gave way for seven days of sunshine, so I was unable to test the wet weather performance of the tyres. You'll have to look elsewhere for thoughts on that. The Tyre Reviews website would be a good place to start.
My week with the car began with a 3am alarm call and a 235-mile trek to Millbrook for the SMMT Test Day. BMW's sat-nav directed me up the A303, which is always preferable to the M5/M4, especially when you're testing tyres. Bends on the stretch from Honiton to Illminster, roundabouts until Amesbury, and a game of chance with the traffic on the M3 and M25.
Take pride in your tyres
Wandering off-topic for a moment, I got to drive a
Kia Pride
at Millbrook. For obvious reasons, it wasn't wearing a set of Bridgestone Potenza Sport tyres, but it did have an original whitewall tyre in the boot. Be still my beating heart.
Going back to the BMW, the tyres were excellent. Three things stood out for me: steering feel, grip and quietness. It might have been a lowly 318d without all the trimmings, but it reminded me of the joys of rear-wheel drive. I had the Blackdown Hills to myself, so I was able to get the most out of the corners.
Regular users of the A303 will know the sharp right-hand bend as you travel between Newcott and Marsh. This is followed by a few twists before the road opens up into two lanes, providing an opportunity to pass any slow-moving traffic. It was brilliant. Bags of steering feel, an eagerness to change direction and lots of grip combine to inspire so much confidence. I was tempted to use only
B-roads
for the entire trip.
It was also whisper-quiet when cruising. This is partly due to the refinement of the 2.0-litre diesel engine, but there's virtually no tyre noise. The only sounds you hear are the wind passing over the door mirrors and Nicky Campbell on the radio. I even managed to achieve 55.6mpg without any form of economy driving.
It was a similar story on the journey home, only with Campbell replaced by Tony Livesey. I avoided motorways, choosing to venture through Buckinghamshire and Oxfordshire to hit the A303 at Sutton Scotney. Getting the power down early when exiting bends and roundabouts became rather addictive. I could brake for roundabouts just a little bit later, for that authentic company car driver experience.
Cook Pass Babtridge
It's a good car, this, and I'm sure the Potenza Sport tyres only serve to improve it. I'd have to drive the 3 Series competitors and test other tyres to deliver an objective review, but a base-spec 318d on premium tyres is a winning combination. You can see why PetrolBlog doesn't do many new car reviews...
One final word about the slip road from the bottom of the M5 to the A30. It's a magnificent corner, and one with a suggested maximum speed of 30mph. It's a great test for car, because it requires a change of mindset, from motorway driving to a near-hairpin that wouldn't look out of place on a race track.
In the right car, and with no surrounding traffic, you can maintain a motorway speed. A
Toyota Camry
isn't the right car. A Honda Accord Type R is. The BMW 3 Series on a set of Bridgestone Potenza Sport tyres is up there with the best. Huge reserves of grip on the tight right-hander and for when it's time to sling-shot your way down the A30. Brilliant.
Decent tyres can make all the difference, so tell your friends and family who aren't into cars to do the right thing. They might not need Potenza Sports, but they certainly require good rubber to stay safe.
One final thing: is it me, or is a BMW with Bridgestone decals on the doors and bonnet a bit 'Cook Pass Babtridge'?
Also read: