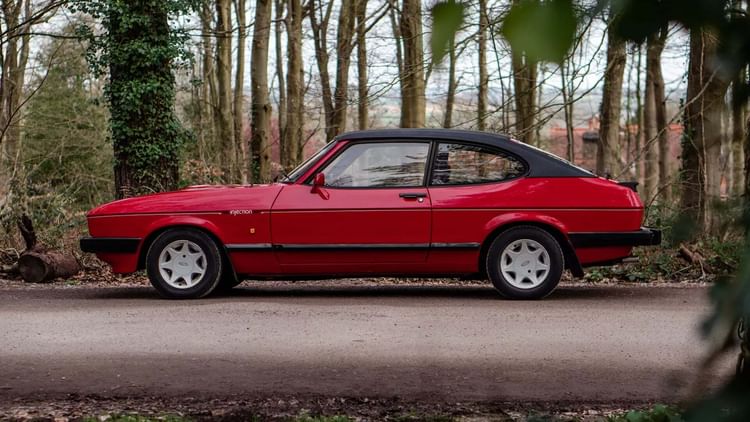 The sight of a 1987 Ford Capri 2.8i Special with a vinyl roof was enough to drag our editor away from a list of Renault Safranes.
To paraphrase a line from a Croft Original ad campaign, one instinctively knows when something isn't right. So, when I received an auction update email from Bidding Classics, my eyes were drawn to the Rosso Red Ford Capri 2.8 Injection Special.

A Capri 2.8 Injection Special with a black vinyl roof.

Distracted? Just a little; I've had to drag myself away from preparing a top ten list of the best Renault Safranes (yes, really) to write some words. The Safrane community (yes, both of us) will need to be patient.




I'm not entirely sure what to make of it. Bidding Classics calls it an 'optional extra rare vinyl roof', but this oh-so-seventies accessory was never available on the 2.8i Special.

It's like seeing Danny DeVito with a toupee. Or a 1980s semi with a thatched roof. Maybe even a fly atop your 'Farmer's Choice' soup at the Berni Inn.

There's nothing wrong with a vinyl roof on a Capri – the pair go together like French & Saunders, Fry & Laurie and Morecambe & Wise. Heck, a Mk2 Capri Ghia looks positively naked without a vinyl topping. Photos of a white Capri Ghia with a 'Tobacco' vinyl roof should come with a NSFW warning.




But a 2.8i Special with a toupee? It's like a glitch in the matrix. It doesn't help that the top half of the tailgate isn't wrapped in vinyl, which might have finished the job. Add some rear window louvres for the complete 1970s experience.

With nine days to go, bidding has reached £7200, with the reserve not met. According to the Hagerty valuation tool, a 1987 Capri 2.8i Special in 'good' condition should make £12,600, although you could add an extra zero for the bonus of having a vinyl roof.

Bidding Classics describes the condition as 'lovely', but says there is 'some scope for improvement'. The first job on the to-do list is to fix the broken electric aerial, which as any long-term reader of PetrolBlog will know, is the automotive equivalent of the ravens at the Tower of London. Without a working aerial, the Capri could collapse.

https://youtu.be/k8R6yp6d07I

Click here to place a bid on the Capri. It'll be a talking point at the next cars and coffee event.

I'm going back to my list of Safranes.

Photos: Bidding Classics

Read more

The Capri 'Testarossa' you always promised yourself
Regrets: Ford Capri – Architecture and Morality
Ford Capri 280: Nostalgia isn't what it used to be